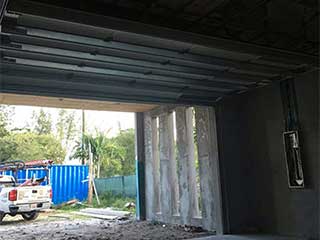 Our experts are at your service for any possible problem you may have with your garage door system.
Emergency Garage Door Repair Services
If you're in need of emergency repair services for your garage, we are the best company to call. We have many years of experience in the field, and our technicians are experts in handling all manners of repairs. We also have an extensive inventory of replacement parts available to ensure that we would be able to replace any broken or worn out component.
The Spring is Loaded
The garage door springs that your system uses are like a loaded weapon. This sort of analogy is appropriate since springs have been known to cause property damage and serious bodily harm when they are handled by amateurs who don't know what they are doing. If you find that one or more of your springs has broken, then call us immediately. We'll replace the damaged component and make all the proper adjustments to ensure that your system is safe to use.
Dealing with Broken Panels
Panels are usually the first thing that gets damaged when a car backs into a garage door. They get hit by the brunt of the impact, which makes them bend and wrap, and potentially even break completely. The good news is that if you have a sectional door you won't have to replace all of the panels if only one or two of them have gotten damaged. Call our expert technicians and we'll find the best replacement parts for your door. We have an inventory of brand new panels that can become compatible with most doors. If you want, you can even have us provide you with some upgrades by having us install panels with improved insulation properties.
Professional Opener Repair
The durability of your opener and door will depend on the weakest part of the system. If, for example, your main motor gear breaks, it will render your opener useless. In this example, it is the gear that is the weakest and it is this component that needs to be replaced before you can resume using your opener. By calling our experts at Garage Door Repair Walnut, you are making sure that any problem you're experiencing will get resolved quickly and efficiently.
Be sure to contact us for any related need you may have.
We also offer the following services:
Part Replacement & Repair
Remote Opener Clicker Replacement
Emergency Broken Spring Replacement