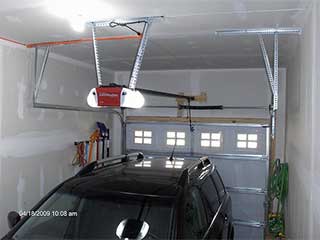 Keeping your garage door opener in good working order is essential for the continued reliability of your door system. Without a smooth, quiet and reliable opener, homeowners are likely to find their garage door developing more and more issues; it's vital that any problems with your opener are addressed swiftly and professionally.
Problems With Your Motor
The opener motor that operates your garage door is built to last - it has to power your system's operation hundreds of times per year, and it is designed to withstand the wear and tear of heavy daily use. However, over time, small issues can develop and they'll require immediate attention; a slow-running, noisy, jerky or unreliable operation can be a sign that your opener needs professional attention.
Repairs and Adjustments
Our technicians are trained to recognize the symptoms that cause many of the common problems found in garage door openers; they'll quickly diagnose the issue with your unit and advise you on the appropriate course of action. The opener mechanism is complex, and fixes can range from replacing a circuit board to repairing faulty wiring.
Replacement and Installation
It may not be practical or feasible to have your opener repaired; some older units, especially, may need to be replaced outright. In these cases, we highly recommend having our professional team replace and install your new opener - it's essential that the new unit is properly calibrated and aligned with your garage door to ensure long-term optimal performance.
New Motor Sources
We carry a wide range of high-quality openers and replacement parts; we stand by the quality of the products we carry and are happy to recommend them, but if you've acquired a unit on your own and simply want to have it installed, we're also happy to do it for you.
Contact Us Today
We're proud to offer our services as a professional service provider of garage door opener repair and replacement solutions; call our experts at Garage Door Repair Walnut today to find out how we can help you.
Need more? We also provide:
Roll up Garage Door Maintenance
Screw Drive Opener Replacement
Garage Door Cable Replacement
Emergency Garage Door Repairs